Elf 2000
From Spare Time Gizmos' Wiki
This page contains user contributed documentation for the Elf 2000 and associated peripherals, including
The information on this page is supplemental and is not a substitute for reading the Elf 2000 User's Manual.
[edit]
Announcements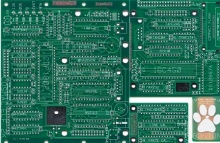 The combination PC boards have arrived and all orders excepting the international ones have been shipped. Internation orders require me to stand in line at the Post Office, so that'll have to wait until Monday! --Gizmos 11:54, 4 November 2011 (PDT)
I have ordered an additional run of PC boards for the Elf 2000, Disk/UART/RTC and STG1861. These three boards will be tiled together onto a single panel and sold as a unit, along with a pre-programmed Elf 2000 EPROM and a set of GALs. At this time I don't anticipate offering any other parts with the kit, however everything else you need, including the CDP1802s, are readily available. When the parts are available I will post an announcement to the Yahoo COSMAC Elf and Spare Time Gizmos groups - Gizmos 18 October 2011.
[edit]
Errata and Addenda
[edit]
Parts Lists and Suppliers
---
Note: As per section 2.3 of the Elf2k.pdf Spare Time Gizmos COSMACELF 2000 USER'S MANUAL.

2.3 OPTIONAL SUBSYSTEMS

Many subsystems of the Elf 2000 are optional and may be omitted without affecting the function of the remaining parts. In some cases when optional subsystems are omitted special jumpers or connections may be required to enable the rest of the logic to continue functioning. This section discusses the optional subsystems in the Elf 2000 and how to safely remove them.

You may also want to consider the option of building your first Elf with one or more of these subsystems omitted to save both money and time. In this case you can always go back and add the missing parts at any time.
[edit]
Parts Suppliers
The parts for the various boards can be found from various sources. No one supplier has all of the needed items.
[edit]
Other Resources